Your Wedding Day
Fremont Wedding DJ Alameda Ceremony.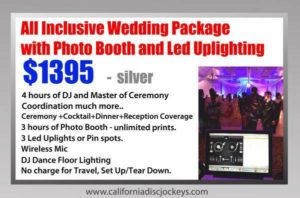 Fremont Wedding DJ Ceremony and Reception Disc Jockey for your East Bay Area Reception in Alameda County, California.
With over 3,000 Weddings under our belt, we are
proud to say that every outcome has been a complete success.
We understand this is your Special Day and we want nothing
more than for you and your Guests to remember this beautiful day
for the rest of your lives. East Bay Area Wedding Reception
A memorable event that will be cherished forever and ever.
Fremont DJ
Here is The Full List of Services included with this Amazing Deal.
* Up to 4 Hours of Music & Dancing Entertainment including any Requests, Shot-Outs & Dedications. (5th hour is free)
* Premium Digital DJ Entertainment System w/ wireless mic for any announcements.
* A Professional One Person Show – (DJ/Emcee Combo).
* A Premium Light Show – Bright LED Laser Lights with patterns PLUS Multi-Colored Derby Light, and Colored LED Lights.
* All pertinent ceremony functions will be performed — IE: Candle, Cake, Intro, Specialty & Participation Dances.
If you are getting married, we will provide the following Options at no extra charge…
* Music for the Wedding Ceremony (Outside sound system can be provided at an additional charge)
* Music for the Entire Cocktail Hour (Premium Celebrations has a small set-up if cocktail hour is in an adjacent room)
* Music & Announcements for The Introductions
* Music for The Cake, Garter & Bouquet Ceremonies
* Music for All Specialty Dances including but not limited to, Dad / Daughter, Mom / Son, Bride / Groom etc.

OFFICE: 1.510.659.8495 call us today!
INFO: Get a Free Quote
DJ: Ask a Question About DJ Service for Your Event